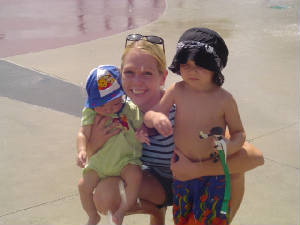 The childcare I offer is certainly one-of-a-kind. Your child will receive one on one care from an experienced caregiver/mom. I love and respect all of the kids in my care as if they are my own. Children are in a safe comfortable environment where there are no off-limit areas and everything in the house is here for their entertainment. We go to play dates every once in a while (should parents allow and carseats permit) where the children all interact and play and learn valuable life lessons about sharing and social interaction. I love to take them on educational and fun trips. We go to the zoo, Lukas Butterfly Encounter, parks, splash pads, Sea World, Universal Studios, Green Meadows Farms, and many more fun places. These are planned far in advance, and only with parent's permission. I cover the cost of entry, food, etc.
I can't say that I really compare myself to a day care as I feel that I can offer something that most care providers are unable to, sometimes for the sheer number of children in their care. For as long as I have been a baby sitter, nanny, and now childcare provider the kids I care for receive the same love and attention my own children receive. The infant and toddler years are so important for development and I feel one to one care is vital to any young child's growth.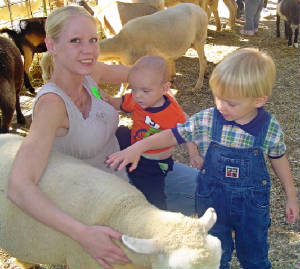 Playgroup Perks
Moms Share Their Experiences
By Shel Franco
Playgroups are popping up in neighborhoods all over America. They can be as formal as weekly dates with Gymboree or as nonchalant as get-togethers with the kids.
One mother, Jennifer O'Malley, talks about the benefits of playgroups, "I think it's helped his language skills," she says. "After almost every playgroup, I notice new words."
And even though early toddlers cannot grasp the concept of sharing, O'Malley believes it is important for her son to witness older kids taking turns. The older kids also have provided her with the opportunity to learn how her son may behave in the coming months. "You see other kids going through it and you think, 'Good. It's OK that he's doing this,'" she explains.
O'Malley acknowledges that there is a dark side to playgroup: Scuffles happen and kids are bound to show up sick. Still, she maintains a healthy attitude about what goes on. "My son needs to learn to say 'No! Don't do that to me,'" she says. "Even bad experiences are things kids need to learn."
"On days when we have nothing to do, it's been so nice to have playgroup," she says. "It's been a very positive experience."